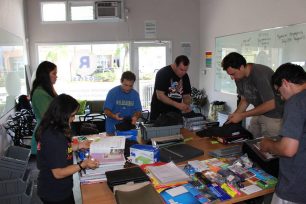 By Miya Senzaki
Although the main ROSIES ventures are mobile food related, what we learn is by no means limited to the foodservice industry. The process of learning how to work on the hot dog cart also teaches employees valuable skills that they can use in any workplace, such as working together to finish tasks. They also spend time in the ROSIES office, which exposes them to an office environment.
Any job comes with problems that must be solved.  To successfully solve a problem, employees learn how to approach these problems calmly, come up with potential solutions, think critically about what they should do and have the courage to do the right thing.
Collaboration is the act of working as a team.  In order to do this, coworkers must communicate effectively and all of them should contribute. ROSIES employees need to work together to pick up the hot dog cart, set it up, cook hot dogs, sell and serve the dogs, clean the cart, take it down and drop it off.  When employees start working on the ROSIES Bus food truck they will collaborate to sell and serve frozen desserts.
When people buy things, they don't just want a quality product.  They want an enjoyable experience, to which customer service contributes greatly.  Excellent customer service goes beyond the essentials of smiling, greeting buyers, and treating them politely and respectfully.  It also includes getting the job done smoothly, being aware of what one's doing and showing the customer that he or she loves the job.
Selling hot dogs on the cart does more than just feed the general public.  It's also an opportunity to promote ROSIES.  When employees take orders, they will also tell customers about ROSIES Foundation and give out cards with information about what we do and why we do it.
In addition to the hot dog cart and food truck, ROSIES teaches employees skills to use in an office setting.  The foundation's documents and spreadsheets are stored on a Google Drive, and the employees at ROSIES maintain a Gmail account for its email.  Other computer skills that have been used in the office are printing documents and scanning drawings.
Writing is a crucial skill used to communicate with other people.  The ROSIES website includes biographies for most of the employees.  Each employee wrote his or her bio, and they were edited before posted to the website.  The ROSIES blog offers detailed explanations of the ROSIES experience and also includes reports on fundraising events.  Writing for the blog provides an opportunity to spread much more information than what can be provided at a meeting, plus reaches out to people who are unable to visit the office or attend an event.
If you are interested in learning more about ROSIES or booking one of our ventures for a private event please email us info@rosiesfoundation.org and join the ROSIES story @ROSIESjobs