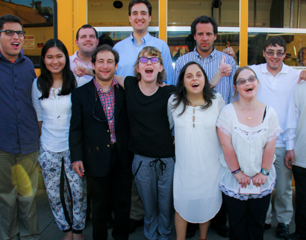 If you went straight to this blog and have no idea what we're about, let me begin with an official introduction. ROSIES is a nonprofit organization that creates sustainable, purpose-driven employment opportunities for people with disabilities through training and entrepreneurship.
Translation: we respect and embrace what individuals with diverse abilities have to offer and believe that with the right opportunity and support, anyone who wants a job can be successful in obtaining and retaining employment.
Now that introductions are out of the way, let's get to the matter at hand: everyone's blogging these days, but why does ROSIES need a blog? We're glad you asked…
This blog will provide us with a platform to tell our story as a grassroots organization and the individuals that make it up so you can begin to understand why we want to shift the focus from disabilities to disABILITIES. Please don't just take us at our word (though you wouldn't be wrong to do so); read our blog and let the behind-the-scenes action speak for itself.
We will be sharing our happenings with our 8-month training program, CREW College (learn more about it here) and our CREW graduates' experiences in the workplace.
Moreover, we want to share with you the lessons we teach at ROSIES–not just so you know what's going on here, but because we could all benefit from these messages.
We invite you to check in with us weekly to see what we're up to and engage with us as a blossoming organization. Please feel free to comment on our blog posts with your thoughts and feedback–we'd love to hear from you!